a brief historical profile of
The City Manufacturing Company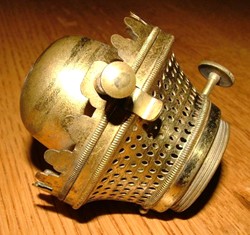 Luther Chapin White (b. December 25, 1821, d. April 5, 1893) came to Waterbury, Connecticut in 1841 at the age of 21. His first job there was in the employ of Messrs. Pritchard and White engaged in the manufacture of umbrella trimmings and small brass goods. Late in December of 1842 he found employment at The Scovill Manufacturing Company where he worked for about two years. He left Waterbury for Meriden to work for J.S. Norton in the manufacture of door trimmings where he would stay for about six years.

In 1851 he invented a valuable improvement in the manufacture of fluid lamp burners. On September 7, 1852, he obtained a patent for his invention, U.S. Patent Number 9,256. He partnered with Frank Smith of Meriden and formed a company to manufacture these burners under the name of White & Smith. In 1853 they were persuaded by Charles Benedict (a principal of Benedict & Burnham) and John Bailey to remove their business to Waterbury. On September 3, 1853 they organized The City Manufacturing Company as a joint-stock company with capital of $10,000. L.C. White served as president and John D. Johnson served as secretary. Another founding principal, George H. Pendleton, would later serve as secretary and treasurer until the "merger" with Benedict & Burnham. The City Manufacturing Company would go on to make a variety of lamp burners, patented button-backs, and job work in German silver and rolled brass. It is assumed, although not confirmed, that The City Manufacturing Company occupied space in Benedict & Burnham's manufacturing complex from its onset.


L.C. White's Improvement in Scissors

"The nature of my invention consists of forming the shoulders upon the handles of the scissors or shears some distance back of the point of riveting the cutting-blades to said handles, so that a recess or space shall be left between the points of riveting the blades to the handles and the shoulders.
The object of my invention is to cheapen the cost of manufacturing scissors or shears, and at the same time secure greater uniformity in the temper and quality of the shears produced."
A year later, Frank Smith passed on. White purchased Smith's share of the business and continued in the management of the business for fifteen years. The company was very successful owing to its ability to change with the times - as lamp fuels evolved from burning fluids to coal oil and kerosene, the business stayed current and modified its products to meet the demands of the changing fuels. The business grew so rapidly that within a short period of time, they increased their capacity and production four-fold.
Luther White obtained patent number 37,119 for a "fastening for lamp chimneys" on December 9, 1862. White invented and patented (no. 53,719) a pair of wick trimming scissors on April 3, 1866. On June 5, 1866, White was granted a reissue of his patent no. 9,256, RE2,264. Later that summer, on July 3, 1866, White was granted a patent for a
chimneyless burner
, U.S. Patent Number 56,131, depicted at left. The March 3, 1863 patent date cited on the thumb wheel on the burner in the margin above is for a patent granted to a Willard H. Smith of New York, New York for "improved perforations in lamp-burners." Smith was a prolific inventor, having at least eighteen inventions for lamps and burners of various types.
Lamp burners manufactured by The City Manufacturing Company are found in both
fixed
and
hinged
gallery configurations and in sizes zero through number three. The hinged versions that the author has seen utilize the "Taplin hinge," patented by Albert Taplin of Providence, Rhode Island, and are part of the specifications of U.S. Patent Numbers 36,680 (October 14, 1862) and 41,794 (March 1, 1864).
As time went on, L.C. White became increasingly interested in a business concern started by his brother, Jacob Watson White, for the manufacture of paper and paper boxes. Luther purchased the company from his brother's estate in February of 1866 and would form a partnership, called
White & Wells
, with
Captain Alfred Wells
. He would eventually narrow the focus of his efforts into this concern and on July 1, 1868, White sold his interest in The City Manufacturing Company to
The Benedict and Burnham Manufacturing Company
, also of Waterbury. He retained the button making portion of the City Mfg. Co. which he ran as his personal business for more than twenty years, said business being co-located in the same facility on Bank Street as the paper business. On July 1, 1888, he would reorganize as the
L.C. White Company
which continued with the button business and various paper-making concerns into the 19th century.
The following passage is from the Work Record Pocket Diaries of Charles Somers Miller, Waterbury, Connecticut. Mr. Miller performed a number of odd jobs, but had substantial experience as a blacksmith. His diary entries chronicle scores of days working for Benedict & Burnham. He also did repair work or made wagons for Holmes, Booth & Haydens.



Monday, April 10, 1899.

This day I worked at Benedict & Burnhams Irving carried me down, and came after me at night. Benedict and Burnhams require four large engines to drive its machinery. They also have eight small engines located in different parts of the concern to use when the large engines are not running. They keep fourteen horses in the barn, six of which they use on double teams, the rest single, also they have a locomotive which is in constant use. The different departments are. [paraphrased] The Office, Mill, Seamless Tube, Braised, City, Heat Steam & Light, Wire Mill, Shipping, Yard, and Barn departments.


Source: Robert Kraft's Genealogy Page, University of Pennsylvania
The City Manufacturing Company
would ultimately become part of Benedict & Burnham's growing business concern and occupy a portion of their manufacturing complex. In the June 13, 1863 issue of
The Scientific American
, there is a lengthy article (a portion of an ongoing multi-part article) entitled "The Waterbury Brass Mills - The Factory of Benedict, Burnham & Co." The article describes some of the manufacturing processes that the firm engaged in - brass wire, German silver, brass tubing, copper rivets, burrs, &c. "Let us leave this part of Benedict & Burnham's Works, and cross into the rooms occupied by the City Manufacturing Company, and see the operation of making - kerosene lamp burners."
The article explains the processes involved with burner manufacture which include "one hundred and eleven distinct operations before it is completed." There are representative images (see
figure 1
and
figure 2
) of the burner during its various stages of manufacture. "The division of labor and the substitution of mechanical processes alone render the company able to afford the burners at renumerative prices. Some of the most ingenious machinery that we ever saw was employed in producing these burners, and the other articles manufactured on the premises; as for instance that employed for making - button backs."
Benedict & Burnham operated The City Manufacturing Company as a separate division (department) of their conglomerate until they became part of The American Brass Company in 1900.

Patent Search Interface

To view any of the patents referenced in this article, enter the patent number in the field below and click Query USPTO Database. This will open in a new window and take you to the U.S. Patent & Trademark Office Database - directly to the patent in question. Learn more about the USPTO here.

References

Brown, Coralynn, "The White Family," viewed on February 13, 2007, <http://freepages.genealogy.rootsweb.com/~jdevlin/bios/white.htm>


Kraft, Robert, Work Record Pocket Diaries of Charles Somers Miller, viewed February 13, 2007, <http://ccat.sas.upenn.edu/gopher/other/journals/kraftpub/Genealogical/CSMiller%20Journals/Journals%20(1876-1943)>


Prichard, Sarah J., The Town and City of Waterbury, Connecticut, The Price & Lee Company, 1896.


"The Waterbury Brass Mills - The Factory of Benedict, Burnham & Co.," The Scientific American, Volume 8, Number 24, June 13, 1863.


A personal "Thank You" to Jeff Smith who provided some of the images of the City Mfg. Co. burners.