Antique Art Glass
Salt & Pepper Shakers
In addition to antique lighting, one of our greatest passions is collecting antique art glass. Since purchasing large pieces of art glass can be quite costly and requires a lot of space to display, we collect smaller objects, such as salt & pepper shakers and tumblers. We can acquire many examples of the various types of art glass, and still have adequate space to display them.
We are former members of the:
We particularly like cranberry glass and it's derivatives:

Cranberry - decorated and plain!


Rubina - cranberry shading to clear.


Rubina Verde - vaseline shading to cranberry (my personal favorite!).


Amberina - amber shading to cranberry.
We also like the rarer types of art glass: Peachblow, Agata, and Burmese. We prefer the glossy finished over the pieces having a matte or satinized finish. In general, these represent heat-sensitive glass. Heat-sensitive glass turns different colors when it is re-heated. That is how the graduations from one color to another are made.



---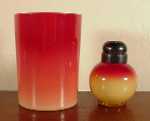 Here are two examples of Peachblow glass. The shaker is Wheeling Peachblow, circa 1886.


---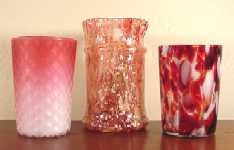 Here are two tumblers flanking a celery. They represent examples of Diamond Quilted MOP Satin Glass shading from pink to white, Spangle or Vasa Murrhina Glass containing mica flakes, and Tortoise Shell Glass.


---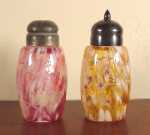 Here are two examples of Decorated Spatter Glass Barrels, one in pink and white, the other in honey amber and white.


---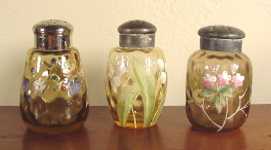 Here are three examples of Decorated Amber Glass shakers.


---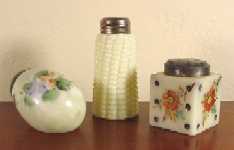 Some examples of figural shakers: Flat Side Egg by Mt. Washington, a custard Corn by Dithridge & Company, and Single Dice by W.L. Libbey & Sons Company .

---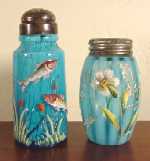 Here's a rare Fish Pond shaker by Moser Meierhofen Works, and a wide stripe opalescent barrel.

---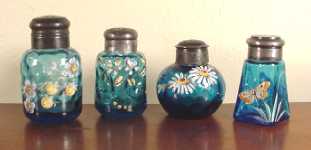 We are also very fond of blue glass shakers, especially ones that have hand-painted enamel decorations. Overall, any colored glass example with hand painted decoration is a welcome addition to our collection.

---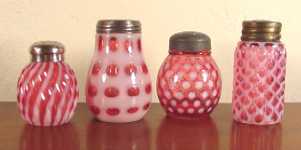 We have a number of opalescent pieces in our collection as well. From left to right: a Reverse Swirl by Buckeye Glass Company, a Polka Dot by West Virginia Glass Company, a Polka Dot opalescent by Fenton, circa 1955, and a Sixteen Pillar with diamond lattice by Hobbs, Brockunier & Company.
---
Standard Reference Materials
on Art Glass Salt & Pepper Shakers
Arthur G. Peterson,
Glass Salt Shakers,
Wallace-Homestead Book Co. , 1970

FOR SALE!
We currently have one copy available.
Contact us if you are interested.

Mildred & Ralph Lechner,
The World of Salt Shakers,
Collector Books, 1976
Mildred & Ralph Lechner,
The World of Salt Shakers, Second Edition,
Collector Books, 1992
Mildred & Ralph Lechner,
The World of Salt Shakers, Volume III,
Collector Books, 1998
---
Thanks for Viewing our Art Glass Web Page!

Please visit The Lampworks, our Antique Lighting Web Site.

Contact us on the Internet: shakers@thelampworks.com

Click here for a Three Stooges sound-bite!
---
Copyright © 1999-2011 Daniel Edminster - All Rights Reserved